Reviewed! Wicked Surrender by Jade Lee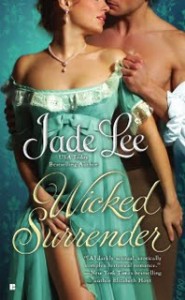 Title: Wicked Surrender
Author: Jade Lee
Publisher: Berkley
Release Date: September 7, 2010
Reviewed By: Jax Cassidy


* * * * * *
This Regency historical takes you on an emotional journey with Scher Martin, an actress and proprietor of the Green Room playhouse and tavern. From page one, you can feel the heated attraction between Scher and Lord (Brandon) Blackstone. Although the physical desires cannot be met, it's not the only source of their troubles. It's evident that Scher yearns for marriage and respectability due to circumstances stemming from her past, yet when she has the opportunity to marry Brandon's cousin Kit, she realizes that everything she ever wanted isn't what she wanted at all.
If you want to read a story about a sharp-witted heroine, an exceedingly sexy and brooding hero, WICKED SURRENDER is the right choice. Jade Lee is a strong writer and creates an intriguing ensemble cast that includes potential in-laws you'd want to run far away from, and a fiancé that you can't wait to see grow into a man. Although I enjoyed the book, I felt the pacing picked up in the second half where the storytelling provided a juicier bit of drama and action. The Epilogue (and sneak peek) made me look forward to WICKED SEDUCTION, the next installment in this series.
* * * * * *
The daughter of an actress, Scher Martin feels she'll never fulfill her dreams of acquiring a good home and having a respectable family, so she agrees to be the mistress of Brandon Cates, Viscount Blackthorn.
But when Brandon's cousin proposes marriage, Scher finds herself torn between the propriety she craves and the love of a dark and troubled man.