Spotlight On, Vonna Harper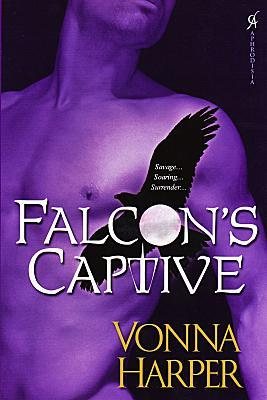 Having written since dir was new, Vonna Harper knows where most of the bodies are buried. Thanks to her nearly useless sociology degree, she became a social worker but escaped her legitimate job when her first child was born and gave into her dream to write. With some 50 published stories under her belt, she's still trying to figure out how its done. Vonna lives in beautiful Oregon with her husband and is blessed to have her sons and grandchildren in the same valley.
For more information on Vonna, visit her at: www.vonnaharper.com
………………………………
**Vonna is giving away copy of FALCON'S CAPTIVE. If you'd like to be added to the random drawing, please post a comment. Please provide your email address if it is not linked to your username. For US Residents only.**

How long did you write before you got published? What made you decide to write erotic romances?
My "writing" career began as a child when I wrote and illustrated my own comic books with the Lone Ranger's horse as the protagonist but in reality, I've been in the right place at the right time at least four times. My first serious try at writing a book was a bust–forgot to include conflict. Then I cut my teeth on confessions so had learned a lot before category romance in the U.S. took off. Thanks to a friend's nudge, I was one of the early American writers.
Do you think the erotic market is slowing down or do you feel it's going to stay around to a little while longer?
I don't see it slowing down but I do see a crowding of the market. Ebooks remain available forever which means current releases vie with stories that are years old for the reader's money. Evolution is part of every genre so I'm interested in seeing what new trends might be. For me, I'm working on marrying erotica with suspense.
Can you tell us about your upcoming release? What inspired you to write it?
Falcon's Captive which comes out July 27 was the first in my latest contract with Kensington Aphrodisia. I love that my editor lets me loose to write what turns my crank. I've done a lot of capture (as opposed to BDSM which I can't wrap my mind around) and there are elements of that in FC. Because I'm drawn to wide open spaces, I settled on a remote desert area and threw in some shape shifting. Not sure what inspired me beyond wanting to explore characters with the wild in their souls. Man against nature elements.
What do you like best about the writer's life? What do you like least?
I love, love, love when something new starts to perk, the honeymoon stage where all things are possibile, characters are becoming multi-layered and I'm diving into research. The least fav is probably when life keeps me from the computer. I get mean. 🙂
When you purchase a book, what grabs your attention the most, the cover or the blurb? Or what helps you make a decision to buy it?
Its probably a combination of cover and blurb. The cover of course makes the first hit but in a blurb I'm looking for conflict both among characters and in a strong plot.
If you were a nail polish color, what would it be called and why?
I don't wear nail polish so that's out of my comfort zone. I love earth tones so maybe brown.
Have you ever done anything that is out of character or impulsive? What did it teach you about yourself?
Oh yes, there've been several times but since I don't want to wind up behind bars–seriously, the older I get the more comfortable I am staying with what's true to me.
What advice would you offer to the unpublished romance writer?
Its easy to say read and write and keep on doing those things but I've long put knowing the business at the top of the list. Reality is that in today's business world, there are limits to what unpublished writers can accomplish. I'm not trying to discourage anyone, just saying that I'd be mighty surprised if a new writer would break into the Big Apple publishers right out of the chute. Fortunately, there are many small hungry publishers–if the unpublished writer is professional in what she offers those publishers.
Interviewed by Jax Cassidy