Blogging with Craig White, Illustrator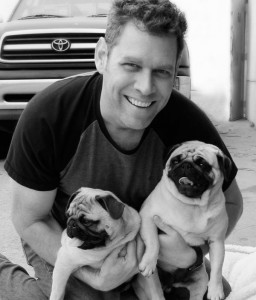 Since 1993 Craig White Illustration has been providing illustration services for the media industry. Craig's work has appeared on the covers of best-selling authors such as, Carrie Vaughn, Ellen Byerrum, Marjorie Liu, Glynnis Campbell, Robert Ludlum, Vince Flynn, Clive and Dirk Cussler, Laurell K. Hamilton, Sherrilyn Kenyon and others. Craig's work has also appeared on national magazine advertisements, packaging, outdoor, and web sites.
An avid surfer and snowboarder, Craig resides in southern California with his beautiful wife and constantly amazing daughter.


How did you get your start doing covers?
My first freelancing illustration job (about 17 years ago) was doing artwork for Marvel, illustrating comic book trading cards. Through that job, I met my agent Peter Lott. After Marvel stopped doing the cards, Peter got me a series called 'Give Yourself Goosebumps' in a similar style. That series led to more young adult series and I started doing more photo manipulation style illustration. Over the years, those styles evolved into what you see today… but I'm always trying new things to try and stay fresh– trying to evolve and keep up with what's cool and current.
Who's been the biggest influence on your art?
I would have to say Cliff Nielsen. I fell in love with his work back when I started. I sort of tried to imitate his look at first and then just developed my own style out of that. I still love his work… really amazing.
How much input do you get from the publisher/author when doing a cover?
I don't know how other artists work, but for me, the publisher and art directors dictate what they want for the cover. It's rare that I get a manuscript to read. Sometimes it happens, but not very often. Usually the Art Director already has the general idea of what they want and it's up to me to fill in the details or just make the idea viable. I actually prefer this as I do several covers a month and I don't have the time to read everything that I work on. The big publishers have their own marketing departments who specialize in what they do and I think they have a lot of influence internally. They do know which books sell and which don't and hopefully which covers work and which don't. There are only a few authors that I do covers for, that I know for a fact, have direct influence/approval in the cover art– for better or for worse ;-). As a new author, it must be scary to have limited control on the cover of your book, but I guess the system seems to work.
What's your creative process like?
I get a synopsis of what the Art Director wants via email. At that point, sometimes I'll do some pencil sketches and get approval to proceed. Other times I'll just set up a photo shoot with approved models and get started on the illustration. Many times the Art Director will site samples of previous covers I've done as a guide to what they would like. I'll do the illustration and then we go back and forth with revisions until everyone is happy. Then I send the high resolution to the publisher and several months later it's on the shelves.
What's the one thing you'd like authors to know about the creation of a cover?
Hmm. I'm not sure if this is what you mean, but I want them to know that I give 100% effort to every cover I do, no matter what the budget or time frame. I will try with all my might to produce art that I would be proud to put on my own book cover (If I could write 😉 ).
With the rise of self-publishing, people will want to know – do you do freelance covers? If so, what's the starting price?
I sometimes do commissions. It just depends on how busy I am. I believe the range traditional publishers pay for cover artwork is $2500-$7000. I also realize self-publishers are reaching into their own pockets to pay for cover art, so I might not be an affordable option. If I was going to work with a self-publisher, the price would be dictated by how much time is involved or in other words, how complicated the desired imagery is to create. If backed against a wall, I would probably say $500 is a good place to start for a self-publisher. Model fees and props are an additional expense.
What book are you currently reading? What music are you currently listening to?
I just started 'Good Omens' by Neil Gaimen and Terry Prachett… which is hilarious. On the music front, I just bought BT's latest 'These Hopeful Machines' as well as 'Broken Bells' self titled release, both fantastic.
What inspires you?
Music, movies, books,… anything creative really gets me going. Visual art is a big one for me though. I recently got inspired to start painting with oils again after watching a Greg Manchess instructional dvd. Wow, I love his work. For me, I obtain real inspiration from amazing "illustrators" more so than "fine artists"… from Leyendecker to Rockwell to Frank Frazetta and John Buscema, to all the current crop of amazing illustrators living today giving us fantastic visuals everyday. They inspire me to continually strive to become a better artist. And, last but not least. Fans! I love hearing from people who like what I do… it warms my heart and makes me try even harder the next time I sit down to create another cover.
To find out more about Craig and to see his portfolio, visit him online at: http://www.CraigWhiteIllustration.com
Interviewed by Kriste Painter