Kelly Lynn Parra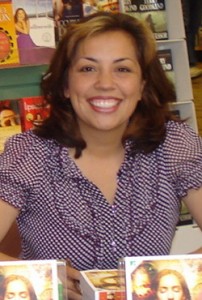 Kelly Lynn Parra's earliest stories were told with paintbrushes, but upon discovering the drama, forbidden love, and danger of romance and suspense novels, those paintbrushes were replaced with a keyboard.
Now a multi-published author, she has created memorable characters such as a graffiti artist, a psychic teen, and a tough undercover narc. A two-time RITA finalist, she divides her time between her novels, freelance writing, and the adventures of motherhood, where she juggles her home life with two children, a tattooed husband, a sweet poodle, and a stealth turtle.
To learn more about Kelly and her writing visit www.KellyParra.com.


Please tell our readers and members a little bit about yourself.
Hello Romance Divas, thank you so much for allowing me to chat with you all! I'm Kelly Lynn Parra and I'm debuting into romantic suspense fiction with Carina Press with my novel Criminal Instinct.
I started my publishing career in young adult fiction, writing as Kelly Parra. My novels are Graffiti Girl and Invisible Touch published with MTV/Pocket Books. I tend to write books about underdogs who beat the odds, because who doesn't love a good underdog story?
My experience has been really wonderful. The Carina team wants the e-press to be the best it can be and it shows in all of their hard work and amazing ideas. They are also helping the authors with on-line publicity and gathering us for monthly chats to bring us up-to-date with Carina's plans.
What other projects do you have in the works?
I'm continuing to write young adult and I'm toying with a potential sequel to Criminal Instinct. The problem is so many ideas to choose from!
What inspires you? What were your writing influences?
Movies and wonderful books inspire me. The tension and action in movies that have me on the edge of my seat, and characters in books who are original and who I would love to know in real life.
As a teen, the one author that kept me awake long into the night was V.C. Andrews. Although back then I never thought I would one day be a writer. While I was pregnant with my first child I discovered the wonderful world of romance through Nora Roberts.
Since then I've discovered so many fantastic authors such as Marjorie M. Liu, Dianna Love, Rachel Caine, Janet Evanovich, Anne Frasier, and Rachel Vincent.
What helped you make the decision to become a romance writer?
While reading a bio of a Harlequin series author, I realized she was a stay-at-home mother writing romance novels. I was staying home with my son and wondered if I could write exciting and passionate love stories. So one day I took a chance and called it hobby. Once I joined on-line forums and chapters and took some workshops, becoming published turned into a dream.
What is the hardest part of being a writer? The easiest?
The hardest part for me is writing everyday. Sometimes the muse doesn't want to work while I have a list of household chores to do or a baseball game to race to on time. *grin*
The easiest part of writing is creating characters and storylines from my imagination. I used to be an artist and I've always been very visual. This helps me to see what I'm writing like a movie playing in my mind.
What is the biggest misconception about romance authors that you've come across?
That writing is easy and that romance is all about sex. LOL. But these misconceptions usually come from people who are worried about how the world views them, and of course they are entitled to their opinions.
I know why I read romance and it's to take a step into another world for a little while. To experience fiction that is out of the box and keeps me riveted. And I'm proud to read every genre that I enjoy.
Do you have any words of wisdom for aspiring writers?
Don't give up and try not to take negative feedback too personally. Keep writing even after the bad contest comments or the rejections. Be open to creative advice and work to make your book stronger.
Also, please realize there is always more to learn. I've written three books but there's always room to hone my craft and to make my storytelling better.
Thank you again for reading! I hope you are a excited as I am about the launch of Carina Press. And I hope you'll give a newbie romance writer a chance and check out Criminal Instinct on June 7th, 2010. Happy Reading!