Spotlight On Dirty Sexy Books



Rebecca Baumann, Owner of Dirty Sexy Books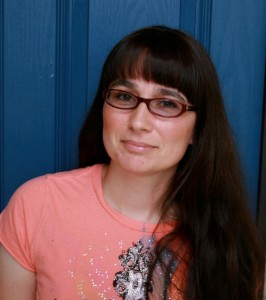 How did Dirty Sexy Books get started?
It was started in pure ignorance. When I began blogging a year ago, I had never even visited a single book blog, which strikes me as funny nowadays, because I'm addicted to at least a dozen of them. So I started out not knowing what I was doing, but just feeling the need to share my reviews, and chat about bookish topics in general. I put the cart before the horse, but luckily the poor beast learned how to push from behind.
I figured I was the perfect person to write a book blog because 1) I don't have a 'real' job (I'm a full-time slave, cook, and mommy), 2) I read a book nearly every single day, and 3) I like to write.
I was in a hard-core romance phase when I started my blog, but over the past year I've been branching out. I'd say that I still read about 50 percent romance novels, but I'm getting into science fiction, fantasy and crime fiction more and more. I've even gained a new appreciation for some terrific young adult series, and I'm pleased that my tastes are always evolving. Reading the same thing over and over is a good way to kill one's passion for books.
What do you like best about running the site?
I love blogging because it lets me meet all sorts of fellow book lovers, and not just in the U.S. either. The hardest part about starting a blog is writing post after post to an empty theater. Those first emails and comments I received gave me the biggest thrill, and to this day I still get a buzz hearing from my regular visitors, or meeting someone new. That's pretty much what keeps me dedicated to Dirty Sexy Books.
Definitely following a close second is getting to correspond with some of my favorite authors. I'm constantly amazed at how accessible and open most writers are, and their willingness to do umpteen interviews and guest posts is akin to those psychos who hold marathons in Death Valley. I stand in awe of their dedication, while simultaneously acknowledging that I don't have it in me. I'm frequently asked if I'm an aspiring novelist too, and my response is, Heck no! I don't think most people realize what a hard job it is, and how there's so much more to it than just writing the book.
Tell us how you fell in love with romance books.
Ah, that's kind of interesting, because I was a bona fide book snob for many years. I recall the first time I set foot in the romance stacks at my local library, I was so embarrassed that I practically wore a trench coat and sun glasses (no lie). After I read a few I was quickly converted, and now I consider myself a champion for the romance genre. The first authors who really snagged me were Linda Howard and Jayne Ann Krentz, and from there I got into paranormal romances by J. R. Ward, Kresley Cole, and Sherrilyn Kenyon. Now I follow too many authors to list, but I like just about all romance sub-genres.
Since I came from a decidedly negative point of view, I'm always pushing to help change romance's reputation. I think there's a whole potential fan base of readers who aren't willing to try these stories because of old stereotypes ('they're just bodice-rippers'), or misinformation ('it's porn'). Hence, the name of my blog is a tongue-in-cheek poke at the idea that romances are 'dirty books.' You'd be amazed how many people Google that exact phrase too, and no, most of those folks are not romance fans. I think they leave DSB pretty fast once they realize that I don't have bare bosoms on display.
If someone is interested in having you review a book, what do they need to do?
I don't have a hard and fast review policy. I invite authors, publishers, and publicists to email me the blurb and I'll take a look. If it peaks my interest, I'm happy to review it, but if it doesn't I'll pass. I do write critical reviews from time to time, and I do my best to choose books that I think I'm going to like. Since I'm a single-person blog, I can't accept nearly as many requests as I'd like, so I do have to say no a lot. Whenever I accept a review request I'm happy to have the author over for a guest post or interview. I love promoting good books.
What's the last book you read or what are you reading now?
Today I just finished up "Mr. Impossible" by Loretta Chase, which is a delightful regency romance set entirely in Egypt. My only gripe is that the cover does a dismal job selling the story. I wrote in my review that I want to see pyramids, pistols and romance on the cover. It's an action-packed adventure that closely resembles the 1999 film "The Mummy," but minus the supernatural mummy monsters. I was enormously entertained, and Ms. Chase has a deft touch with these opposites attracting stories.
Book you're most looking forward to?
Most of the books that have me slobbering in anticipation are installments in ongoing series. I think Gail Carriger's second Alexia Tarrabotti novel, "Changeless," is going to be spectacular.
My number one must-read for this year is Ilona Andrews forth coming "Magic Bleeds," which is nominally an urban fantasy, but it features one of the hottest slow-cooker romances I've ever read.
I'm always eager to read another J. R. Ward novel, and "Lover Mine" features some characters near and dear to her fan's hearts.
Lisa Kleypas has two Hathaways novels coming out this summer, and I'm going to be in heaven. I could go on and on, but that's a sample.
What's in store for Dirty Sexy Books' future?
Tattoos, leather pants, and motorcycles. Okay, maybe that's wishful thinking, but I hope to keep things kicking, and that means hot books and cool guests.
Interviewed by Kristen Painter