Blogging with Tracy Madison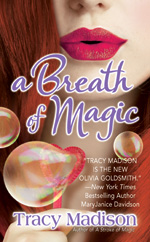 Tracy Madison is giving away one free copy of A BREATH OF MAGIC to a lucky commenter. Winner will be chosen at random by May 7th and will be contacted via email. Please provide this info if you wish to be included in the drawing.
Can you tell everyone a little bit about yourself?
Sure! I live in Ohio with my husband, four kids, and way too many pets. And yep, life here can be crazy & hectic, but I love most every minute of it. The minutes I don't love—well, that's what bubble baths, wine, and great books are for. I'm addicted to the television shows LOST, Supernatural, and Castle. Oh, I'm also heavily addicted to coffee in all its forms and when faced with the decision of food or a Venti Double Shot on Ice from Starbucks…I'm going to choose the double shot every single time.
Your series contain a magical element in them, how did you come up with the concept? What compelled you to write it?
When I decided to write A Taste of Magic, the first book in this series, I knew I wanted to dig into a woman's emotions after divorcing the only guy she'd ever dated. Heck, ever loved. But I also didn't want it to be too depressing. I like humor. I like quirky. And I really like the idea of something out-of-the-ordinary happening to an otherwise ordinary gal. My solution? Give her a good dose of magic, some quirky relatives, and two handsome guys out to win her affections. While writing this first book, the second book came to mind, and then the third, etc. I can honestly say I didn't start out with any plans to write a series, but I'm thrilled it has turned out this way. And I've had a lot of fun with the magic elements, as each heroine's powers are different even though they are all connected via their Gypsy bloodline.
Do you have a ritual or writing process?
Sit down and write and hope for the best. Oh, and vast amounts of coffee. While I am a very organized person, my writing process is sort of chaotic. My writing hours shift depending on the story, my mood, and whatever is happening with the family. At the moment, I'm writing at night, when everyone else is asleep. Did I mention the coffee?
Can you tell us about your current release?
A Breath of Magic is Chloe's story. When the story opens, she's determined to create her own happily-ever-after with the man she's dated for the past year, Kyle. Only Kyle has no desire to settle down. So Chloe uses her family's magic (in the form of a magical cake baked by her cousin Elizabeth) to push Kyle into saying yes to her marriage proposal. He does. She's thrilled. Until she discovers that her other cousin, Alice, has a magical drawing of Chloe's future wedding day, and the groom isn't Kyle. Chloe has to decide which fate she wants for herself, and how, exactly, to get it.
What inspires you? What were your writing influences?
Almost anything inspires me. A sentimental moment with my kids, a funny video on YouTube, a walk in the park, a hated chore, waiting to board a plane at the airport, an excellent book, movie, or TV show—all of these have given me inspiration in one form or another. But what I LOVE to write are stories about women who are in a really crummy period of their lives, whether that be emotional or something else, and then I give them something extra that empowers them and changes their lives. Yeah, I definitely like to empower my heroines.  🙂
When you're not on deadlines, what do you like to read?
Um…everything? Okay, not actually everything, but I have very eclectic reading patterns. One week, I might be on a thriller bend, and the next I'm all about romantic comedy, and the next I'm yearning for dark paranormal. I mostly read romances, but I'm also a huge fan of political/legal thrillers, women's fiction, young adult, and a fair share of non-fiction—either for research purposes or plain old curiosity. I read all of the time, even when I am on deadline—just not as much. But I don't go to sleep without reading at least a few pages of something.
What helped you make the decision to become a romance writer?
Honestly, it was sort of a natural. I'm a sucker for the happily-ever-after ending, and I love writing about love. Everything from that first hint (or body slam!) of attraction, through whatever struggles the couple faces, until they reach their happy ending. It gives me tingles just thinking about it.
How many years of writing did you invest before you became published?
Off and on : About ten years. But a large aspect of those ten years, I didn't write at all. Too much moving around the country, having children, moving again, having more children (did I mention I have four?), and all the other aspects of life. When I buckled down and got really serious, about two years, I'd say. But from when I first decided that "Yes, this is what I want to do," to "the Call" was a total of ten years.
What is the hardest part of being a writer? The easiest?
Hm. The hardest for me has been learning to trust my intuition, to not second-guess every other word I put on the page. And promotion, I guess. Promo is hard for me, because I'd rather just focus on writing. But it's necessary. The easiest? Hm, again. That depends on the day. J Some days, the writing itself is the easiest, but not always—not by a long shot. I'd have to say editing. When the book is complete from page one through the end, and I can dig in and make the story stronger. I love editing. I love revisions. I truly do.
What is the biggest misconception about romance authors that you've come across?
Other than we're all making buckets of cash and sit around eating bonbons all day? There are several, actually, but the one that bugs me the most is that all romance novels follow a formula, are easy to write, and therefore, romance authors are really just connecting the dots. Ha! People who think that should give writing a romance a try.
Do you have any words of wisdom for aspiring writers?
Two bits of advice: One, if you can do anything else, do it. Seriously. If you aren't fully committed, then the hard parts of this business will chew you up and spit you out. It's a tough business, being a writer. Two, on the other hand, if this is your dream, then don't give up. Because as tough as this business is, as heartbreaking as it can be, when you finally get to the point that you're holding your book in your hands—it makes every struggle worthwhile. Truly. Oh, and when you get your first reader e-mail—that's pretty fantabulous too!
Any last words for our readers?
A Breath of Magic is very special to me, and I so hope that readers will find the same joy in the story that I found in writing it. I'm giving away one signed copy of A Breath of Magic! To enter, just leave a comment!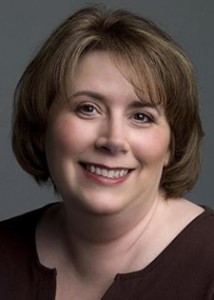 Tracy Madison lives in Northwestern Ohio with her husband, four children, a bear-sized dog, an obsessive-compulsive puppy, one snobby cat, and one attack cat. Her house is often hectic, noisy, and filled to the brim with laugh-out-loud moments. Many of these incidents fire up her imagination to create the interesting, realistic, and intrinsically funny characters that live in her stories.
For more info on Tracy, visit her online at: www.tracymadison.com