Blogging with Jean Brashear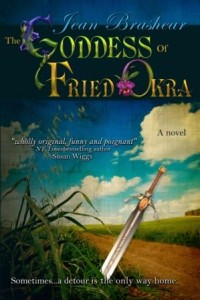 Available at Bell Bridge Books or Amazon
**For a chance to win an ARC (advanced reading copy) of GODDESS OF FRIED OKRA, all you need to do is comment on this post. A winner will be chosen at random and notified via email. Please provide your email address if you wish to participate in this giveaway.**
Can you tell everyone a little bit about yourself?
I'm a diehard optimist and romantic.  I know I'm supposed to cite the 24 books released by Harlequin so far, the awards I've won, etc., but I'd rather talk about how I like making my own bread from scratch (and how therapeutic kneading dough is), how I love visiting NYC but need to look out the window over my sink and see the Longhorn cattle in the pasture behind us, how I'm fortunate to be descended from a long line of women with grit, how much I adore my children and think my grandgirlies are beyond amazing…how lucky I am to be with the man I've loved since we were teenagers…
You've gotten published without any real writing background. How does it feel to write for such a successful publisher like Harlequin? What has your experience been like working with them?
I never started out to write category romance—I'd never read any when I began—and I'll out myself as one of those boneheads who actually used to worry about a friend of mine who read Harlequins all the time. ;)  So I figure that when I encounter people who turn up their noses at what I do, well…it's my just desserts.  But they're showing their ignorance, just as I once did.  Harlequin has such wonderful writers and has launched so many great careers. It's been a lovely experience writing for them—I've worked with wonderful editors and feel fortunate that they have confidence in me, that they give me cool opportunities to connect with readers all over the world plus fun gigs like the crazy kick of learning about NASCAR or the honor of the MIDNIGHT KISS anthology I'll be in with Robyn Carr this November. (So thrilling!)
I've recently had another absolutely amazing publishing experience with BelleBooks and their women's fiction imprint, Bell Bridge Books, with my April release, THE GODDESS OF FRIED OKRA, which is truly a book of my heart.  They're a whole different publishing model than Harlequin, but man, have I had fun working with them!  If you don't know the BelleBooks story, it's a fascinating one, a group of multi-published authors like Deborah Smith and Debra Dixon who banded together ten years ago to bring to readers high-quality stories that the major houses weren't geared to deal with.  They've done such a great job that they command tremendous respect in the industry and are an author's dream to work with.
Do you have a ritual or writing process?
Um…besides the one Red Bull a day I seem to think I can't write without? ;)Â  (I know…I was supposed to say something soulful like I meditate or visualize or something, right?;))
Actually, I do get myself geared up each day and back into the story by first re-reading and revising what I wrote the day before.  That's probably a more proper answer. (But the Red Bull is, sadly, true as well. Sometimes two, but let's not think about that.)
Can you tell us about your current release?
THE GODDESS OF FRIED OKRA is getting some amazing quotes like Susan Wiggs ("Jean Brashear's wholly original, funny and poignant novel has a heart as big as Texas. Told in a warm and intimate voice, it's like a road trip with your best friend.") Stella Cameron ("an incredibly talented writer who can hit every note with enough clarity to bring the reader tears, laughter, or just, "Oh, my, this is an amazing story.") Debbie Macomber ("The depth of her understanding of human nature marks her as a writer to watch, a writer to read and a writer to enjoy. ") and others—SO exciting!  It's also going to be featured in Eloisa James's Romantic Reads column on BN.com in either May or June—I'm thrilled!
Here's a blurb on it:
Six-foot redhead Eudora "Pea" O'Brien, ex-cocktail waitress and convenience store professional, sets off from Austin, Texas with everything she owns in her beat-up car.
She's searching, on the advice of a psychic, for the reincarnated soul of her beloved sister. Along the way, Pea rescues a starving kitten and a pregnant teenager, gives her heart to a con man trying to go straight and meets a gun dealer named Glory, who introduces Pea to the sword-wielding women of Texas author Robert E. Howard (creator of Conan the Barbarian.)
Howard's nearby hometown celebrates each year with a huge Conan festival, featuring his warrior-women characters in all their tough-girl pride. Can Pea pick up some pointers on strength, courage and self-confidence? Can she find her own lost soul by swinging a sword?
With the help of Glory and her nemesis, a grandmotherly café owner named Lorena, Pea seeks to master a whole new set of life skills: swordplay, the art of cooking perfect fried okra, how to be a surrogate big sister to Alex, and how to fall in love with Val Bonham without getting conned.
You can watch the book trailer at:
http://www.youtube.com/watch?v=nEau9ZqC3z4
What helps get you inspired and what were your writing influences?
I never know what's going to get me going—seeing someone on a street corner and wondering who they are, how they got there, where they're headed; hearing a snippet of conversation; just driving around is great for getting ideas popping in my head (or solving plot problems.)  Country music ballads always make me want to wallow in writing another romance—not the storylines of them, just the longing they evoke (Billy Currington, Jason Aldean…Alan Jackson's Remember When was the soundtrack to my book Coming Home—not that I listen to music when I'm writing (I don't; just can't) but when I'm driving down the road, some songs just make me hurt and make me want to dive into all the wild emotions of another love story.
Writing influences?  None that are conscious, though there are a lot of authors I admire.  I guess my main influence—and my only training—is how I've been devouring books all my life.  I theorize that I must have absorbed some inner sense of story structure.  I cannot read how-to books and avoid craft workshops like the plague; they freeze me up.
When you're not on deadlines, what do you like to read?
What do I NOT read, is the question!  I read all the time, deadlines or not—I don't get how writers can say they don't read when they're writing.  I'm always under deadline, and I'd die if I couldn't read!  I'd almost rather read than eat (okay, that's a lie…but you can do both at the same time, fortunately!)
I will say, though, that when my writing isn't going well, I tend to go back to keepers for my reading.  Nothing puts me in a worse mood than reading bad writing, and that bummed mood impacts my own writing when I feel off-balance, so when I hit a rough patch, I go to my comfort reading, the authors whose work I know I love and who inspire me. 
What helped you make the decision to become a romance writer? Was it reading a romance book or a nudge from friends?
Actually, it was that lovely man I mentioned, the one I'm married to and who continues to validate my faith that romance is real.  I'm not one of those who always wanted to be a writer; if I had a 'someday' thought, it was to spend time painting!  But one day I happened to muse that, as a lifelong avid reader, it seemed like it would be the coolest thing on earth to see your name on the spine of a book.
Well, he's Mr. Pragmatic to the core, so he says "What's stopping you?"  He went way beyond that and encouraged me to take time each day from the business we were in together to give writing a try, and every step of the way, even when I was filled with doubts that I'd ever sell a book, he always, always believed I would.  See why I'm a diehard romantic?
How many years of writing did you invest before you finally made it?
I sold my first book a little over two years after I began writing.  I know now that's not all that long compared to some, but it felt like eons at the time.  I wanted to give up a million times, but I'm proud to say that when The Call came (a week after receiving two brutal rejections, one on each side of my birthday, no less!) I was back at work, trying yet another story, literally typing when my agent called.
Which character(s) or storylines that you are most attached to?
THE GODDESS OF FRIED OKRA is the dearest to my heart of any book I've ever written.  Pea, the protagonist, was and continues to be a gift to me.  I feel like I've become the truest me as a writer I've ever been in the process of this book, and though it's taken a long time and a lot of dredging up faith in myself over and over despite the doubts of others to stick with it until this book came to fruition, it's also been the most joyous time of my life.  It's revolutionized a whole lot of my thinking about my writing and its impact is rippling through my Harlequin books, as well.
What is the biggest misconception about romance authors that you've come across?
That they sit around in chiffon eating bon bons?  ;)  I have to say that they are the absolutely coolest group of women (mostly—though Ken Casper gets to be an honorary girl, not that he'd thank me;)) I've ever met.  Bright?  Incandescently bright, hard-working, fascinating, fun, formidable…it's like the best sorority in the world, and I continually pinch myself that I get to hang out with all these amazing women! (Ooops—sorry, Ken!)
Do you have any words of wisdom for aspiring writers?
Listen to yourself.  Be true to yourself. Figure out where to draw the line on accepting the opinions of others.  I'm not saying feedback can't be important or that you can't learn from others (I am not a fan of critique groups but I know others are) but there comes a point, deep in your core, where you have to believe in your story and be true to it whether anyone else is or not.  It's not an easy place to be, and it's a tough thing to do, especially when (we've all been there) you want to sell a book just about worse than you want to breathe.  But in the end, only you know what your story really is and when you're being true to yourself—and if you don't believe in it, who will?
Any last words for our readers?
It's been one of the absolute greatest joys of my life to be allowed to share my stories with others. For any of you who've ever read my books or who may in the future, I just want to say thank you from the bottom of my heart.  Yes, making money is a nice thing and we all need to eat…but it's nothing compared to hearing from readers, having them say, after you've spent all those hours and days and months alone trying to put what's in your heart on the page: I heard you.  I got it.  You touched my heart.  There's nothing like it in the world.
Thank you so much—and thanks to Romance Divas for this wonderful opportunity!
ABOUT JEAN:
Award-winning romance author and three-time RITA finalist Jean Brashear turns a wistful, funny voice to women's fiction with the story of a grieving woman who sets out to find her reincarnated sister but ends up finding herself. A 5th-generation Texan, Jean lives in Central Texas with her husband and a shaggy, stray, escaped-from-the-circus dog.
To find out more about Jean, visit her online at:
www.jeanbrashear.com
http://twitter.com/jeanbrashear
"Jean Brashear's distinctive storytelling voice instantly draws in the reader. She writes with warmth and emotional truth. The depth of her understanding of human nature marks her as a writer to watch, a writer to read and a writer to enjoy." ~#1 New York Times bestselling author Debbie Macomber
"Jean Brashear's wholly original, funny and poignant novel has a heart as big as Texas. Told in a warm and intimate voice, it's like a road trip with your best friend. Don't miss it!" ~#1 New York Times bestselling author Susan Wiggs
"Jean Brashear has that "it" factor.  She is an incredibly talented writer who can hit every note with enough clarity to bring the reader tears, laughter, or just, "Oh, my, this is an amazing story."  THE GODDESS OF FRIED OKRA is stunning, powerful and raw.  Pea is on a journey to heal herself, and find herself–and you will want to go with her to find her dear, dead sister–I do." ~New York Times bestselling author Stella Cameron
"With characters full of heart…and vinegar, Jean Brashear takes us on a road trip through the back doors of modern life.  And we get to read every hysterical marker on the way." ~ USAToday bestselling author Pamela Morsi
"THE GODDESS OF FRIED OKRA is a poignant journey of one woman's search for a place to  belong.  The characters are as delightful and engaging as can be found between the pages of a book, and the book itself is a road map to happiness – something for which everybody yearns." ~New York Times bestselling author Sharon Sala
"A wonderfully engaging story of one woman's search for self.  Jean Brashear tugs on your heartstrings and won't let go." ~New York Times bestselling author Julia London
"THE GODDESS OF FRIED OKRA is a fabulous read.  Riveting.  Original.  Those characters grabbed my imagination and didn't let go." ~New York Times bestselling author Cathy Maxwell