LESLIE LANGTRY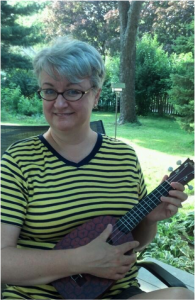 Leslie Langtry is the author of the Bombays Greatest Hits series, The Adulterer's Unofficial Guide to Family Vacations, and several books she hasn't finished yet, because she's very lazy.
Leslie loves puppies and cake (but she will not share her cake with puppies) and thinks praying mantids make everything better. She lives with her family and assorted animals in the Midwest, where she is currently working on her next book and trying to learn to play the ukulele.
Leslie Langtry was named 2011 Blogger of the Year by The Book Boost. Seriously…she has the trophy and everything. Look! There's a picture of it right there!
Leslie's favorite color is orange and her favorite flavor is sugar.
Leslie also blogs regularly on the following sites:
www.killerfictionwriters.blogspot.com (every other Wednesday)
www.romancewritersrevenge.blogspot.com (last Friday of each month)
www.bookendbabes.com (reviews funny books you should read on first Thursday of each month)
www.girlfriendbooks.blogspot.com (every other month – totally randomly)
---
LATEST RELEASE: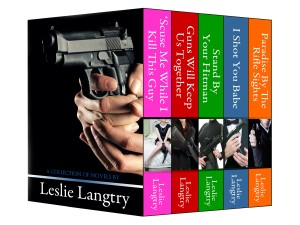 BUY NOW: Â AMAZONÂ Â |Â B & N Â |Â SMASHWORDS
This is a collection including all 5 books in the Bombay Assassins;
'Scuse Me While I Kill This Guy
Guns Will Keep Us Together
Stand By Your Hitman
I Shot You Babe
Paradise By The Rifle Sights
This is a humorous romantic mystery.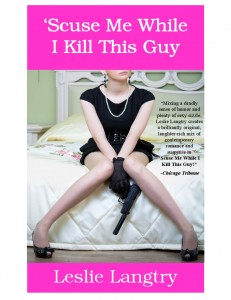 AVAILABLE NOW: Â AMAZON Â |Â APPLE Â iBOOKSTORE |Â SMASHWORDS
Gin Bombay is your average soccer mom/assassin. Between housetraining the puppy, starting a girl scout troop and garroting terrorists, she has a full plate. Now the Bombay Family Council wants her to root out a mole who is endangering the family business (which is assassination), and she's met a hunky Austrailian bodyguard who might be the "one."