Category Archives:
Articles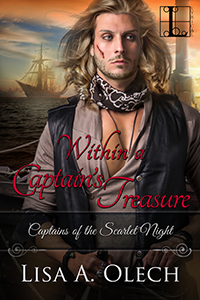 **RAFFLECOPTER GIVEAWAY**
BY LISA A. OLECH
A special thanks for the Divas for letting me come by to celebrate my new release, WITHIN A CAPTAIN'S TREASURE!!
So I wanted this post to be original and exciting. Something new. So I turned to my fans and asked for original interview questions. Hmmm….this may have been a mistake.
I should have learned my lesson when a year or so ago I was writing and was trying to come up with a scent. An intoxicating smell of a women. (Picture Al Paccino saying "HoooYa!") So I asked. Men. On my Facebook page. "What is your favorite scent on a woman?"
I was shocked. Do you have any idea what the number one answer was? Come on think… Men. Women. Scent.
Would you believe BACON?!?
You read that right…bacon! I mean, come on! Bacon? Want to know what the number two answer was? Gun oil….  I have no words… I'm wondering if the perfume people know about this!? Say we come up with a new cologne… Call it "Bazooka Bacon?" "Rifle Rasher?" We'd be millionaires!