Category Archives:
Articles
BY ELLA QUINN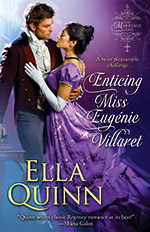 I'm so glad to be back on Romance Divas!! Thank you for having me.
The research for my latest book, Enticing Miss Eugénie Villaret was a challenge on different levels.
The largest difficulty I faced was the lack of institutional knowledge about the area or even documents. It seems that that everyone remembers up to 1780 and after 1830, but nothing during the Regency. During a conversation with the historian on Tortola, BVI, I was told that the information I found dating St. George's church to the mid-19th century was incorrect. A St. George's church has stood on that site since the early 18th century. The problem is that due to hurricanes and fires, most of the documents have been lost. Also, they kept building over the same site.